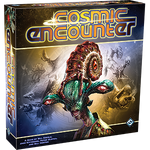 The Fantasy Flight Games edition of Cosmic Encounter was released in 2008. It included improved components, including stackable plastic ships and mobile mini-boards for the planets and game areas (as opposed to the large fixed boards of previous editions), support for up to 5 players (up to 8 with expansions), 50 aliens (many returning from previous editions but some all-new), improved rules with clarifications and all-new tech cards.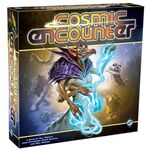 In 2018, in honor of the 42nd anniversary of Cosmic Encounter, Fantasy Flight Games re-published their edition of the game with several improvements. These included translucent plastic ships, a "Learn to Play" comic to allow players to quickly jump in without having to read the rulebook, a set of Cosmic Combo cards that list themed sets of aliens to be played together and a re-release of the Demon alien power and flare card, which had formerly been available only as promos.
This edition includes 50 aliens, 13 of which are brand-new in this edition:
The 42nd Anniversary Edition includes the above aliens plus 1 more:
The Fantasy Flight Games edition has had a total of 7 expansions as of 2019:
↑

Promo alien given to attendees of CosmicCon 2014; later re-included in the 42nd Anniversary Edition.
With all expansions included, the Fantasy Flight Games edition currently includes 196 aliens.
The cover depicts Parasite in the foreground and (clockwise from top) Mirror, Virus, Warpish, Fodder, Reincarnator and Will in the background.

The alien pictures on the cover were added on the game's second printing. The game's first printing simply had the game's logo on a textured background and did not feature any aliens.
The cover of the 42nd Anniversary Edition depicts Sorcerer in the foreground and (clockwise from top) Citadel, Tick-Tock, Vacuum, Cudgel and Will in the background.
Community content is available under
CC-BY-SA
unless otherwise noted.