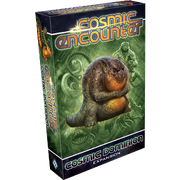 Cosmic Dominion is the fifth expansion for the FFG version of Cosmic Encounter, released 2014. Cosmic Dominion contains 30 new aliens and a new 32-card reward deck, which can be added to the reward deck from Cosmic Incursion or used alone. As a love letter to Cosmic fans, all aliens and cards included in this expansion were designed by the fans. Cosmic Dominion also includes 8 ship markers (one for each player color) for fans to use to come up with their own variants, and a Hazard token (a double-sided token that can be used to keep track of whether a hazard warning is in effect during the encounter).
Aliens
[
]
Cosmic Dominion includes 30 aliens:
Trivia
[
]
With the addition of Joker/Judge, Quartermaster, Usurper and Yin-Yang in this expansion, there is now at least one alien for each letter of the alphabet.